A Whole Range Of Geosythetics-based Pre-Engineered Solutions Along With Cost, Time And Quality Advantages.
Flexituff Ventures International Ltd. has been known for creating highly competitive Geosynthetics' solutions since over a decade. Its manufacturing plant at Kashipur, Uttaranchal housed in 40 acre land with 7,50,000 sq.ft. of modern constructed industrial shed in fully dedicated to manufacturing varied forms of geosynthetics like woven & non-woven geotextiles, sand-tubular geomattresses, GRW (Geosynthetics-gravity Reinforced Wall) Chains – series of inter-connected chambers, geocomposite geobags (megabags) & geotextile tubes. In a very short span of time, Flexituff has been successful at winning and completing large orders – from governments and private parties for geotextile bags and geotextiles in India, aiming at reaching a mark of 1000 Crores from this division.
Flexituff closely works with internationally acclaimed experts in designing and manufacturing geosynthetics; and now, is also well positioned as a contracting company to cater to varied application sectors specially river, cost & hills. The Flexituff advantage is in offering cost, time, quality and convenience benefits to its customers.
Flexituff Geosynthetics Facts & Figures 
• 3 World-class Manufacturing facilities in India • Over 1000 Geotexile Bag Stitching Machines
• Over 240 Looms with latest technology • Customized 261,000 – 450,000 Bags/ Day (from raw material stage to finishing) • 0.1mm to 12mm Various stitch thickness in Bags • Warehouses in Kolkata, Siliguri, Guwahati, Jorhat, Kanpur, Delhi, Mumbai and Indore
many prestigious orders for various Govt & private clients with a tight deadline offering huge advantage to the clients by deploying modern customized machines to offer solution.
• Fully equipped Material Testing Laboratory in factory • Adherence to ASTM and ISO standards applicable in Geosynthetics Industry
• State-of-the-art UV Testing Machine • Specialised Stitching Services (free of cost) to the clients • ISO 9001 Quality Management Systems, CE mark, DGS&D registered & international accreditations • Completed a prestigious order for supply of Nonwoven Geotextile Bags for Bihar Government with a tight deadline • Latest innovative & economical geosynthetic solution- Geosynthetics Gravity Reinforced Wall (GRW)
Geosynthetics Gravity Reinforced Wall (GRW)
GRW protective barriers constitute pentagon-shaped vertical bags, connected side by side like an accordion to make a continuous cellular  barrier. They are linked together to create barriers 100 ft. long or more and are filled with one of a multitude of products such as locally available sand, river silt, gravel, crushed stone, or concrete. The deployment units are removed immediately after filling and leapfrogged ahead to the next set of cells, where the process is repeated for whatever continuous length is required.
The company, very recently, completed a demo project on Paro-Thimpu road in Bhutan (under BRO Dantak) to demonstrate its speed and  effectiveness (30m L & 4m H, took 7 days in all) and another landslide project in Sikkim in just 30 days. It offers the solution by dead weight concept of upto 250-300 tones over a 100ft length in multiplication though.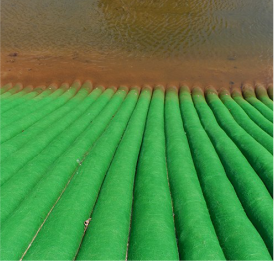 Flexituff is the biggest erosion control mattress supplier of India. Geofill Mattress is a flexible Erosion Control System that utilizes filter
­cloth as pockets for granular infill materials. Its mobility and effectiveness make it the most popular erosion control product in wet areas.
After installation, it provides instant and permanent embankment protection whilst bringing in a green aesthetic look before vegetation is
established. Effective and economical for river bank and estuary bank erosion problems, it is ideal in replacing the method of using large
quantities of expensive and unsightly concrete-­faced systems.
Flexicell is a unique structure consisting of strips of High Density Polyethylene (HDPE) welded together forming individual honeycomb-shaped  cells. Flexicell can be filled with various aggregates, concrete, and even native soils that can be vegetated. They prevent lateral movement  of infill, supports heavy loads on sub-grade soils and extend the life-cycle of the road.
Dewatering Geo-Tubes, also called as Sludge Tubes, are ideal for large dewatering or sludge removal projects as they have high strength, permeability and retention properties. Their significantly larger dimensions and a higher strength fabric allow them to handle the removal of large amounts sludge, sediment or silt without having to constantly change out or replace bags. Unique polymer mixing technology allows the solidification of the sludge in a week rather than a year.
The Geo bag is made out of geotextile fabric that is inhale stitched from three sides and is open from one side. It is designed to be filled with soil and is installed along with the construction of marine and hydraulic structures.
Flexituff Geofil – 317BNW is a needle punched, staple fiber, high elongation, 300 GSM, Non – Woven PET Geotextile Bag, All type fabric Woven & Non-Woven upto 5 meter. They have high permeability, good abrasive resistance, excellent fabric stability and good puncture resistance. Nonwoven Geobags are easily available and implementable, easy to transport when empty and can be customized as per applications. 
Geocomposite Mega bag is a black polypropylene permeable bag which when used in association with soil especially on steep slopes, have the ability to separate, filter, reinforce, protect and/or drain. It is ideal for major civil-engineering applications as it meets the standards of MARV. Resistant to degradations due to ultraviolet exposure, geocomposite mega bag is non-biodegradable and resistant to common soil chemicals, mildew and insects. It lends higher strength to exposed surface and has highest retention of fill materials inside. 
For additional information and enquiries please contact:
Flexituff Ventures International Ltd.
(formerly known as Flexituff International Ltd)
(Geosynthetics Division)
Plot Number 212, IInd Floor,
Okhla Industrial Estate, Phase III
New Delhi – 110020
(T) +91 7292 401681 / 82 / 83, 420200, (E) rohit.chaturvedi@flexituff.com