Geosynthetic Solutions – Strongly
Present Where It Matters Most.
With its rich experience on a global scale, Flexituff creates project-specific, 'Pre-Engineered Geosynthetic Solutions'. Flexituff takes on board its marketing consultants and other associates across India and also buyers (users) in developing alternative cost-effective solutions. The project cost is estimated with defined technical and performance specifications and standards after fine-tuning its Geosynthetic deliveries to meet stipulated project schedules. This covers in-house design assistance and technical support on all its products and solutions on offer. 
Geosynthetics Are Ideally Suited For
Geotechnical
Retaining walls | Slope stabilization | Landslide repair | Ground improvement | Reinforced soils Structures | Big housing projects & embankments
Hydraulics
River training & bank protection | Coastal protection & development | Erosion and scour protection | Reservoirs / Ponds / Lakes | Canals / Channels
Transportation
Pavements | Track-bed stabilization | Highway & Runways | Low-cost roads | Approach roads | Railways
Environmental
Solid waste landfills | Waste water lagoons | Drainage Works | Seepage Control
| Horticulture / Agriculture
Common Areas Of Geotextile Application
River
The surface of banks around rivers, lakes and other watercourses can be badly eroded by waves, continuous current and sediment movements, which can easily lead to wash-outs and therefore ruining of banks. The stability of river banks can be retained by either full or part erosion control under the water level. Some erosion control mats and geo-cells make it possible to use the same erosion control geo-synthetic on both wet and dry slopes.
River bank erosion control
Emergency flood protection
River bank scour protection
Gravity Reinforced Wall (GRW)
Road / Highway
Pre-Engineered Geosynthetics Solution are used in the construction of  roadways and traffic areas which are not classified under national guidelines, such as construction roads, parking lots, forest paths and access roads.
Improvement in bearing capacity
Hill Slope
Non-Woven, Woven & Geogrid, GRW, Flexicell, Geomat products are commonly used to stabilise steep slope soil veneers. Erosion control mats are used on slopes to prevent soil erosion, as well as vegetation or seed wash-out due to rainfall. In either case, Geo-synthetic products can be effectively used to help protect slopes from erosion and veneer failure.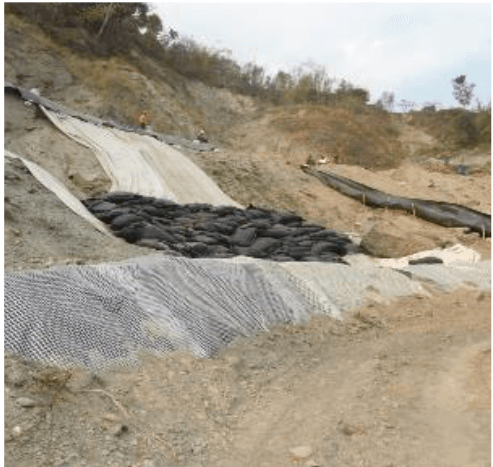 Panchnoi river bank protection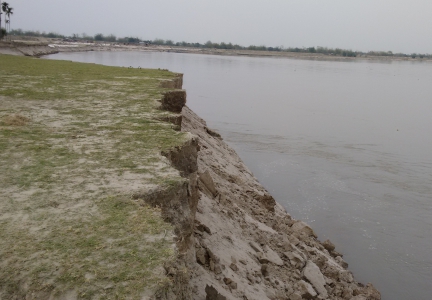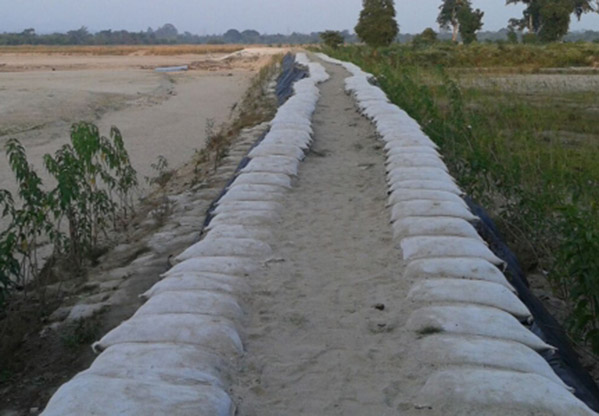 Bozek hill slope restoration
For further information or enquiries, please contact:
Flexituff Ventures International Ltd.
(formerly known as Flexituff International Ltd)
(Geosynthetics Division)
Plot Number 212, IInd Floor,
Okhla Industrial Estate, Phase III
New Delhi – 110020
(T) +91 7292 401681 / 82 / 83, 420200, (E) rohit.chaturvedi@flexituff.com